The
Washington Post
published an article about an experiment they did: they got Joshua Bell, one of the best violinists in the world, to play incognito in a subway station. They wanted to see if, without the PR he usually gets for his stage performances, anybody would stop to listen. The result was--hardly anybody stopped to listen.
Oooo, I do love a social experiment.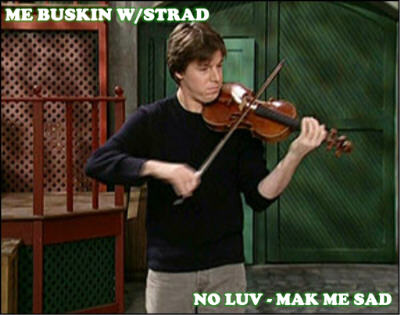 Sorry, this made me laugh. Is it just me, or does it look like he's on the set of Sesame Street?
I recommend reading the article. Two thoughts came to my mind:
1. Am *I* too busy, too insensitive, to unculutured, too unfeeling that I don't notice beauty around me? Would I have walked right by? DO I walk right by, figuratively, every day?
2. Beauty is recognized as such when it is framed. On a stage in a symphony hall, billed as a world-class violinist, people expect to hear beauty. In a dingy subway station, people expect inconvenience as a busker tries to eke out a few bucks with his classical schtick.
The frame gives the medium significance.
It's the same with art, with nature, with people.
My daughter writes the best books . . . but none are published.
Our citrus tree doesn't look like much . . . but its fruit is juicy and sweet.
My friend Allison is the most gorgeous person I've ever met . . . but she's a wife, mother, and down-to-earth gal.
Put a different frame around any of those and I might say:
My daughter wrote the #1 selling childrens book this year.
Organically-grown, peak of the season oranges and lemons: $10/lb.
My friend Allison, the movie star, the model, the Broadway singer, the former Miss America is on the cover of Vogue.
(She really is gorgeous. I know she doesn't read my blog so I'm pretty sure I won't embarrass her.)
So my resolve this weekend is to find beauty in the ordinary and put my own frame around it.
And get tickets to see that Joshua Bell.